Family Activities in Zanzibar, Tanzania: The Ultimate Top 10
Step onto the sun-kissed shores of Zanzibar, where turquoise waters gently caress ivory beaches, and the rhythm of island life invites you to unwind and explore thoroughly. But this captivating archipelago is more than just a tropical paradise; it's a tapestry of cultural wonders and natural marvels that will cover every family's needs, especially if you love nature and adventures!
So, grab your sunhats, pack your sense of wonder, and join us as we set sail to explore the treasures of Zanzibar. Our curated top 10 guarantees a complete bucket list for a family of all ages and provides some extra tips on Zanzibar and more. Let's begin! Shall we?
Before We Start: Interesting Facts About Zanzibar
Every place on Earth has something fascinating and unique about it. And when it comes to a relatively small island, Zanzibar, there's a lot to discover! So, let's start on a fun note and give our top 10 more context.
Here are some of the most interesting facts about Zanzibar:
Spice Island: Zanzibar is often called the "Spice Island" due to its history as a major spice producer. The island is renowned for growing spices like cloves, nutmeg, cinnamon, and black pepper, which were introduced by Arab and Portuguese traders centuries ago.
UNESCO World Heritage Site: The Stone Town, the historical core of Zanzibar City, has been designated a UNESCO World Heritage Site since 2000.
Birthplace of Freddie Mercury: The legendary Queen frontman, Freddie Mercury, was born as Farrokh Bulsara in Stone Town, Zanzibar, on September 5, 1946. A statue in his honor stands in the city.
Dhow Sailing Tradition: The traditional sailing vessel, the dhow, is integral to Zanzibar's maritime history. Dhows have been used for centuries for fishing, trading, and transportation between the islands and the mainland.
Swahili Culture: The dominant language in Zanzibar is Swahili, which plays a significant role in the local culture and everyday life. The island's cultural heritage also draws influence from Arab, Indian, and African traditions.
Unique Cuisine: Zanzibar's cuisine is a delicious blend of African, Arab, Indian, and European flavors. Some of the island's popular dishes include pilau rice, coconut-based curries, chapati, and spiced tea (chai).
1. Snorkeling
With masks adorned and fins in hand, it's a thrilling day in Zanzibar by guarantee! Embark on a journey to explore the mystical world beneath the clear Zanzibar waves and have fun as a family.
Together, you can glide gracefully through the sea and explore the dance of tropical fish, each boasting a color palette as diverse as Zanzibar's cultural heritage.
In places like Nungwi Beach, Kendwa Beach, or Chumbe Island Coral Park, you'll see wonderful nature and rich marine life, such as Lionfish, Starfish, Moorish Idols, and much more. We placed snorkeling as number one for a reason!
2. Dolphin Spotting
Dolphin spotting is right up there with snorkeling. And it doesn't matter if you're with your kids, parents, aunts, or whoever – they will never forget this experience!
So, when you're ready to see bigger players of the sea, head to certain areas, particularly near Kizimkazi. Tours typically depart early in the morning when dolphins are most active. Once you set sail, keep your eyes peeled for playful pods of dolphins leaping and splashing in the sparkling waters.
Dolphin spotting is a year-round activity in Zanzibar, but the best time to increase your chances of encountering dolphins is during the dry season, from July to September. During this period, the ocean is generally calmer, making it easier to spot dolphins playing near the surface.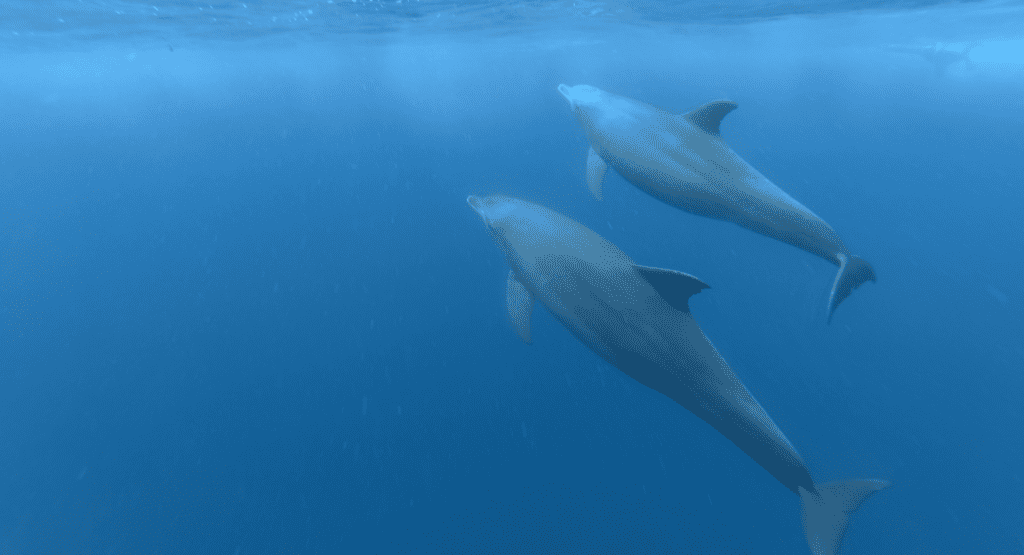 3. Jozani Forest
As you step into this lush sanctuary, you'll find yourself surrounded by ancient Mahogany trees that have graced the Earth for over a century, accompanied by a wide variety of shade-growing plants lining the nature trail.
Along the way, your guide will share fascinating insights into the medicinal properties of the diverse flora. However, the true stars of Jozani Forest are the rare Red Colobus Monkeys, an endemic subspecies found only in Zanzibar. Witnessing these playful primates leaping from tree to tree is a heartwarming spectacle!
But the enchantment doesn't end there. Jozani Forest boasts a vibrant ecosystem, providing habitat for other remarkable species such as the elusive Blue Monkeys, Small Buck, and Bush Pigs. And as a bonus, you'll also see a captivating Mangrove Forest, which is like a completely separate world.


4. The Rock Restaurant
Perched on a solitary rock formation just off the shore of Michamvi Pingwe Beach, this iconic dining destination promises an extraordinary family dining experience like no other.
Inside, the ambiance is enchanting, with warm sea breezes whispering through the open windows and fellow diners' soft chatter, adding to the buzz of excitement. The interior has a rustic charm, where wooden furnishings and nautical touches complement the coastal elegance.
You'll find everything here whether you love seafood, cakes, or an excellent steak. Imagine your kids telling their friends back home how they had delicious food on a giant rock. Unforgettable!
Remember spices from our interesting facts section? Here in Zanzibar, it's as if the very Earth is a canvas painted with the bountiful gifts of nature, and spice plantations are a big part of that.
Once on the spice tour, your family's senses will come alive as you unveil an array of aromatic treasures. Your guide, a passionate connoisseur of all things spice, will be your storyteller, revealing the tales behind cinnamon, cloves, nutmeg, and vanilla.
And as a bonus, you'll be able to purchase spices to bring home and taste exotic fruits while on tour. It's a win-win in our book!


6. Zanzibar Butterfly Center
Here at Zanzibar Butterfly Center, a knowledgeable guide will offer fascinating insights about butterfly behavior, their ecological importance, and the conservation efforts taken by the center to protect these delicate creatures.
Moving deeper into the sanctuary, you'll come across a large enclosure filled with various tropical plants and native butterfly species. In contrast, the stages of metamorphosis, from caterpillar to chrysalis to butterfly, will leave a lasting impression on the children and fostering an appreciation for nature's wonders.
Apart from butterflies, the center also housed a small insect museum. Here, your family can observe other intriguing insects, such as beetles, stick insects, and praying mantises.
7. House of Wonders
The House of Wonders, also known as Beit-al-Ajaib, lived up to its name as it was the largest and tallest building in Stone Town and the first in Zanzibar to have electricity and an elevator, making it a marvel of its time.
Once inside, your family will be greeted by a knowledgeable guide leading you through the various rooms and halls, each filled with artifacts, old photographs, antique ornaments, and exhibits that showcase Zanzibar's rich history and cultural heritage.
It's not just sightseeing here; it's also an educational experience where your family will be enriched by knowledge about the island's past as a center of trade and commerce, where goods from Africa, Arabia, India, and Europe mingled in a vibrant exchange.
True to its name, Prison Island initially intended to house felons; however, its purpose has drastically evolved. Presently, the island is home to a fascinating community of reptiles!
Situated half an hour offshore from Stone Town, Prison Island never fulfilled its role as a prison for convicts. Instead, it took on a different function starting in 1893.
Here, you can experience an unforgettable day with creatures that live for over 100 years. Visit the island and cherish the incredible opportunity to get up close and personal with giant tortoise hatchlings, youngsters, and some genuine old-timers. Among the fascinating residents of the turtle sanctuary, there's a remarkable tortoise believed to be nearly 200 years old – a living testament to history!
9. Stone Town
Stone Town in Zanzibar is a captivating maze of narrow streets and historical wonders. Exploring it freely with family is an adventure in itself.
Simply wander through the vibrant markets, marvel at the ancient architecture, and immerse yourselves in the rich Swahili culture. At the same time, get lost in the alleys, try local delicacies, and enjoy the warm hospitality of the locals.
From the bustling Forodhani Gardens to the iconic House of Wonders, every corner has a story to tell. Later, those stories will become everlasting memory for your whole family.
10. Beach Hopping
You can start a beach-hopping adventure by visiting Nungwi Beach on the island's northern tip. The kids can play in the gentle waves while parents relax under swaying palm trees. Nungwi is also known for its traditional dhow boat tours, providing a chance to sail on the Indian Ocean.
Next, head to Paje Beach on the southeast coast, famous for its kite-surfing opportunities. While the more adventurous family members try this exhilarating sport, others can take strolls along the shore, collecting seashells and enjoying the cooling sea breeze.
For a more secluded and tranquil beach experience, Kendwa Beach is an excellent choice. The family can unwind in this peaceful setting, watching the sunset paint the sky with warm hues. The shallow waters are perfect for young children to paddle and build sandcastles.
Before We Go: Additional Tips
Visiting Zanzibar with a family can be an incredible experience filled with fun and adventure.
Here are some of the best tips to make your trip smooth and enjoyable:
Plan Ahead: Research and plan your trip early. Zanzibar is a popular destination, so booking in advance ensures you get the best options.
Choose Family-Friendly Accommodations: Look for resorts or hotels that cater to families. Many properties offer amenities like kids' clubs, babysitting services, and child-friendly pools.
Pack Wisely: Pack strong sunscreen, hats, water shoes, and swimwear, as you'll spend a lot of time outdoors.
Stay Hydrated: The tropical climate can be hot and humid, so keep the family hydrated, especially if you're exploring outdoor attractions.
Take It Slow: Avoid packing your itinerary with too many daily activities. Kids might need more downtime, so plan for a relaxed pace to enjoy the sights and experiences fully.
Respect the Local Culture: Zanzibar is predominantly Muslim, so dress modestly when visiting villages or public places outside the beach resorts. It's also essential to be respectful of local customs and traditions.
Safety First: Keep an eye on your kids at all times, especially near the water. Zanzibar's beaches might have strong currents and sea urchins, so swim in designated safe areas.
Insect Protection: Zanzibar is a region where malaria is present, so consult your doctor regarding prophylactic measures for your family before traveling. Insect protection is essential, especially during evenings and nights.


Conclusion
As you journey back to the world beyond Zanzibar's shores, remember that the true richness of life lies not in the places we visit but in the moments we share with those we hold dear. And Zanzibar, with its allure of untamed beauty and endless exploration, will forever remain a source of joy, curiosity, and discovery. Kufurahia!